Ocean monitoring and forecasting operations for the European Atlantic coast within the Copernicus Marine Service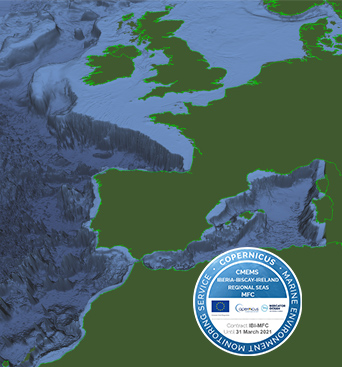 >>> Bathymetry on the European Atlantic coast, area covered by ocean forecasts operated by Nologin Consulting S.L.U. at the IBI-MFC center of the marine Copernicus service
The Challenge
The Iberia Biscay Ireland Monitoring and Forecasting Center (IBI-MFC), operated by Nologin Consulting S.L.U. and developed by a consortium of international entities such as Puertos del Estado, Mercator Ocean International, Centro de Supercomputación de Galicia (CESGA), Irish Marine Institute, Meteo-France and AEMET, offers a regional marine operational monitoring and forecasting service for the European Atlantic coast, included in the Copernicus Marine Service (CMEMS) of the European Union.
Specifically, Nologin Consulting S.L.U. is responsible for the transition, launch and control of operational forecasts of ocean circulation, waves and biogeochemistry, both on short-term and climate scales.
The system generates predictions for the three above-mentioned components by means of complex numerical models that solve the systems of equations governing the ocean dynamics. High Performance Computing resources from the Supercomputing Center of Galicia (CESGA) are used to run these models, guaranteeing a robust, reliable, and timely execution.
The IBI-MFC is driven by the Copernicus Marine Service policy, which promotes a constantly evolving service that is always attentive to the requirements of its users. Therefore, the system has state-of-the-art models, and integrates, among other features, satellite observational and in situ measurement station data assimilation schemes, and coupling between different components..