Real-time data integration: temperature, salinity, current, sea level, waves, chlorophyll and oxygen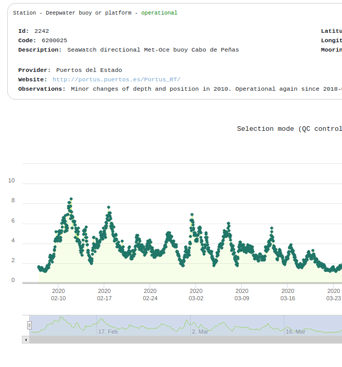 >>> Example of the recorded swell graph
The Challenge
The Copernicus in-situ TAC is a service for the integration of marine environmental measurement networks worldwide, which operates by centralizing in a single entry point all real-time data measured by various institutions. The system integrates data on oceanographic variables ( water temperature, salinity, currents, waves, swell...) , meteorological (wind, rainfall, atmospheric pressure...) and biogeochemical (oxygen, chlorophyll, carbon).
Nologin works for Puertos del Estado in the development and maintenance of the in-situ TAC in the IBI area (Iberia-Biscay-Ireland).
The work carried out is the result of a complex technological challenge, given the volume of data handled, the heterogeneous type of measuring platform (buoys, tide gauges, vessels, profilers, HF radars…), the varied nature of the data (time series, profiles, spectral data, etc.) and the great diversity in terms of origin (Portugal, France, Ireland, United Kingdom, Spain), which leads to incompatibilities in both the source format and the access mechanism (REST services, FTP, ERDDAP, etc.).
In addition, Nologin is actively involved in the evolution of the system, for example, in the development of a web application known as Dashboard which facilitates the visualization and discovery of in-situ TAC data, or in the operational generation of OMIs (Ocean Monitoring Indicators), very valuable for the analysis of the evolution of climate change.