Key Benefits
Improve decision making in the port environment.
Intuitively view a large amount of data.
Manage port users and roles.
User-configurable alerts system.
Sales Contact | (+34)976 512 433
The client
Puertos del Estado, is the Spanish Port System of state ownership that is composed of 46 ports of general interest, managed by 28 Port Authorities.
The objective of this project is to strengthen the ocean-meteorological service individualized to the Port Authorities. In order to facilitate and centralize this work, it has carried out the development of a port management aid application that describes the physical environment in a simple and useful way.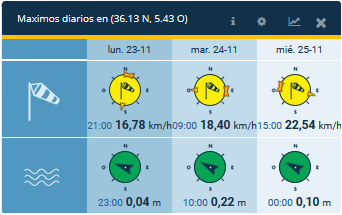 >>> Example of threshold system configurable by user and point
The Challenge
Accurate knowledge of the physical marine environment in which ports are embedded is essential for knowledge-based decision making .
A high-resolution prediction system has already been implemented in a great majority of port facilities that collects a large amount of data from the marine environment. This data makes it possible to know the meteorological conditions of oceans more accurately and in advance. These systems are only useful with a simple and intuitive interface that allows the port to plan and manage accurately.
Nevertheless, it is necessary to transmit and display this information in an intuitive and friendly way for each of the ports, so that it can be used quickly and easily. It would also be useful to have an early alert system to receive notices and warnings at selected points of interest.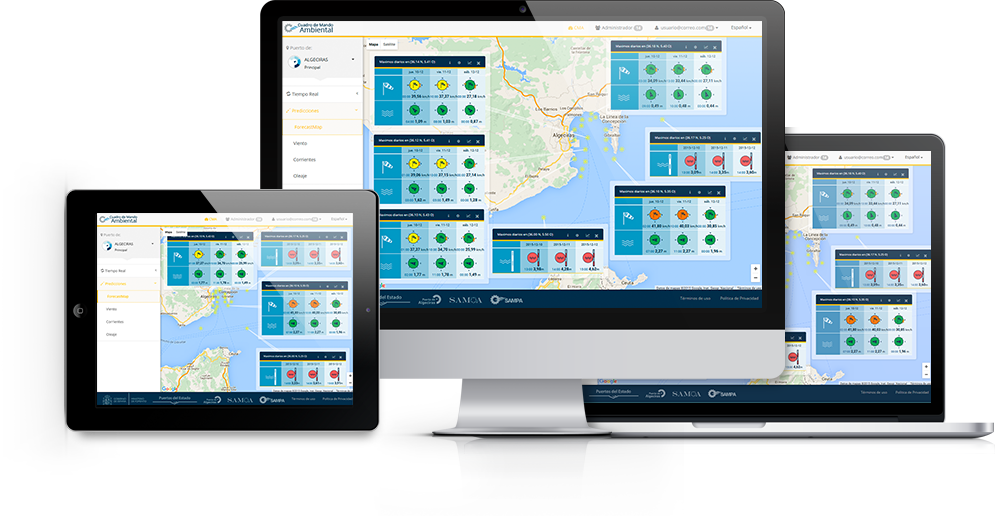 >>> Service Generated using E.U. Copernicus Marine Service Information
The Results
Web and mobile application that helps to improve the decision making capabilities of the port system, based on the data obtained and presents an interface for managing alerts and reports for the selected points of interest.
The Real-time and Forecasts application has been developed, as well as integrated third-party applications within a single application that allows:
Reading and viewing of high resolution models.
SMS and mail alert system, with user-personalized thresholds.
Management of users with different roles and permissions.
Cross-platform (Android™, HTML5).
For more information about the application, you can consult the website: cma.nologin.es [EN]